PLEASE IMMEDIATELY CALL US TO REPORT ANY WILDLIFE THAT IS DEAD, INJURED OR IN NEED OF ASSISTANCE


0467 022 358


OUR VOLUNTEERS HAVE AN AVERAGE RESPONSE TIME OF UNDER 15 MINUTES
WELCOME TO THE AGILE PROJECT
The Agile Project is a community group based in the Northern Beaches area of Cairns and is staffed by volunteers under the guidance of Ecologist Shai Ager. The group has been active since October 2017 and has rapidly grown. It now consists of 160 volunteers, directed by a central committee, and also has approximately 6,000 followers on facebook and 1,000 on Instagram.
The aims of The Agile Project are:
to attend incidents where any wildlife has been reported as injured or killed, and if that animal is a female wallaby, to check for viable joeys.
to rescue orphaned joeys and provide them with  immediate care and support, with the aim to rehabilitate them back into their natural habitat.
to work with other local agencies like the Cairns Regional Council, local developers and the Department of Main Roads, to reduce the threat to wildlife by employing strategies such as appropriate signage, fencing, landscaping and speed restrictions in the affected areas.
to raise public awareness of the plight of local wildlife, and to educate the community about ways to minimise the threats to them.
to reduce the overpopulated group of Agile wallabies in the Northern Beaches area by relocating 400 wallabies to other safer habitats. This will also relieve the strain on food and water resources for the remaining wallabies, ensuring a sustainable habitat for them.
The Agile Project volunteers fulfill many varied roles:
Dispatchers tend a 24-hour emergency hotline that members of the public can use to report incidents.
Rescuers attend incidents involving injured wildlife.
A road-checking crew does daily early morning patrols of the most dangerous streets for injured or dead wallabies. Some also check the gates of sporting fields to release any trapped animals on the fields.
Carers provide 24 hour care for injured animals or orphaned joeys.
Volunteers provide information to the public at various events and public activities, and can also provide education about our local wildlife and their difficulties to groups like school children, service clubs and retirement villages.
Fundraising events to offset the cost of orphaned joey care, vet bills and other such expenses are initiated and managed by our volunteers.
A committee of volunteers is currently focusing on the planning of the upcoming translocation of 400 wallabies from the Trinity Beach area to safer habitats.
Other roles for volunteers include the sewing of joey pouches, transporting injured or orphaned animals, producing flyers and other public awareness material, posting flyers on community noticeboards and liaising with local vets.
Members of The Agile Project are passionate about protecting our local wildlife and assisting any injured or orphaned animals. We are giving our local wildlife a voice!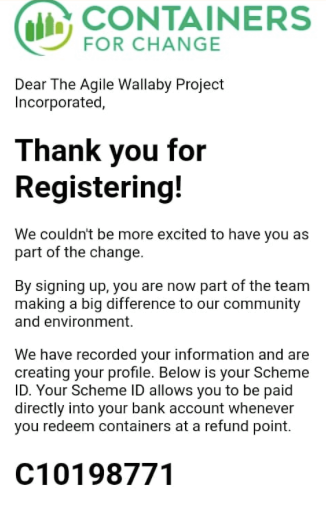 RECYCLING WHILE HELPING THE WALLABIES!
Our Scheme-ID is 
C10198771

(just mention this number when you drop off recyclables to any location)
All the donations will go toward:

supporting our wildlife carers with the essentials,

vet bills,

educational programs and

carer/rescue courses including the starter packs!
This scheme is an easy way to give back if you support our cause and the work our volunteers do within our beautiful community.
Thank you for all your support and lots of love from all the Wallabies and our Volunteers!






GET INVOLVED
Our volunteers are the heart and soul of The Agile Project. Without their tireless support, involvement and passion for the cause; we simply wouldn't be able to make the change in the community that we're aiming for or what we've achieved so far. Duties include wallaby rescues, rehabilitation, fund raising, and educating the public about the need for conservation.